The appetite for app development is growing rapidly. According to App Annie, the worldwide app downloads will reach 258 billion by 2022, that's exactly why many startups strive to hire a freelancer.
But the question of how to manage the development stages and publish your app on the app stores still remains.
In this post, we are going to talk about how you can hire a freelancer and launch your app.
The most important questions that will affect your app development journey are:
How much is your budget?
Are you planning to build an iOS or an Android app?
By answering these questions, you can decide what to do and how to develop your team.
Let us talk about the second question first.
According to our previous post, Building an App: On Industries, Design, Native, and Hybrid, the app development cost and the timeline for Android and iOS apps are almost the same.
But the skill-set you will need is different. For example, if you are going to launch an Android app, you need to look for resumes and portfolios that show a lot of experience in the development and launching of Android apps. For iOS, it is the same story.
A perfect option to consider is to target both platforms and build your app simultaneously. Therefore, you can launch your app on both platforms at the same time.
Your budget estimation plays an enormous role in how you want to build your team to develop your app. There are three options available:
Building an in-house team
Outsourcing to an agency
Hiring a freelancer
For more information, read our In-House vs. Outsource vs. Freelance Software Development.
What you choose is ultimately completely based on your budget estimation and your preferences.
So What is Our Suggestion?
Building an in-house team needs a lot of resources. You need to consider a working space such as an office and many staff to run the establishment. It would help if you also spent a lot of time to find the team you want in the area that you are living in, and you need to consider your staff's needs (from transportation to clean bathrooms).
Plus, with Covid-19, In-house might not be the best possible way to think about app development.
Because of that, so many clients prefer to outsource their projects or hire freelancers instead.
By outsourcing, you might face some complications, such as your involvement in the project and data leak.
But how about you hire a freelancer to launch your app?
Of course, there are pros and cons with hiring freelancers as your development team. Let us go through them and then talk about our solutions:
Hiring a Freelancer, Pros:
You can find suitable specialists:
By choosing and hiring a freelancer, you have the option to choose the specialist that matches your project's requirements.
For example, an android app development specialist can give you far better results than a developer who is knowledgeable about many platforms but is not a specialist in Android or iOS development.
A talented specialist freelancer can change your app as much as you want and tailor it to suit your idea, requirements, and end-user needs.
Freelancers can give you uniqueness in quality:
The final product quality can become exceptional by hiring a freelancer and put you and your app aside from your other competitors in the market.
The app quality is also a great way to promote your app to the market.
You can spend less money and reduce your overheads:
As we mentioned above, your budget affects your choices gigantically. If you decide to hire a freelancer to launch your app, you reduce your costs immediately.
Freelancers help you save time:
By hiring freelancers partially or full-time, you can free a lot of your time and attention.
For example, after setting the milestones initially, you or your project coordinator only need to check the freelancer's job and release the payment.
This means less workload for you.
With in-house team building, you need to set regular meeting times to ensure everything goes according to your plan.
Hiring a Freelancer, Cons:
Communication problems:
Yes, freelancers and clients might not have regular face-to-face conversations, and as you and your freelancer might not share the same workspace, the lack of proximity can also affect your communication.
But why is it a problem?
The freelancer might not have an accurate idea about the project because of communication problems, and there is a possibility of errors and setbacks.
Freelancers might not be punctual enough:
In an app development team, all the works and stages of development are interconnected. So if your freelancer does not manage their time and won't act reliably toward your project, it's going to become a huge problem.
But let's be honest! Setbacks can always happen.
Most importantly, it would be best to choose a team that will communicate these setbacks with you to solve a problem.
Freelancers can leak your idea:
This is a big problem. Like outsourcing companies, freelancers can also intentionally or unintentionally mishandle sensitive data or leak it to a third party.
Companies can sign an NDA with freelancers to ensure their data is confidential as well.
WINaTALENT's Solutions to Secure Your Experience with Freelancers:
We at WINaTALENT know about your struggles and try our best to give you proper solutions.
We've designed different tests to choose the best specialists. With the technical qualification test and the English language test, we have high standards for our freelancers.
Also, in the bidding process, we ask our freelancers to follow the order below:
First of all, their bid needs to be detailed, specific, and focused on their work experience. Also, it should clarify why the freelancer is the right candidate for a particular project.
Their bid should also include the methodology and path they will take to solve the client's problem and meet the job requirements.
As a client, you have to put on a specific proposal based on your requirement. Therefore the freelancers can understand based on their resume where they can bid.
The platform also provides live chat and different methods for both the client and freelancer to communicate through the projects' process.
Remember to monitor the freelancers closely to see if they meet the milestones or not.
Also, the milestone payments you make will stay in the platform's escrow account till you, as our client, accept the end of a milestone. Therefore, you can be sure about the quality of work you get.
Hourly Rates for Hiring a Freelancer to Launch Your App:
Before you decide to hire a freelancer through our platform, let's go through the hourly rates of the freelance talents you can find on our talent pool:
| | |
| --- | --- |
| Talent | Hourly Rates |
| Mobile developer (Android) | 12€ |
| Backend developer | 7€ |
| Dev ops specialist | 10€ |
| Designer | 9€ |
| QA Specialist | 9€ |
As you can see, these rates are quite low, but the talents who are in our talent pool are experienced in their field. Most of our developers are from the MENA region. And the rates are mostly lower than in other parts of the world. With their work experience and their language skills, we want to make sure that WINaTALENT provides top-notch experience in your app development.
You can hire the talented freelancer you need and build your dream team from WINaTALENT freelancers by following the steps below:
After following this link, you can sign up as our client for free: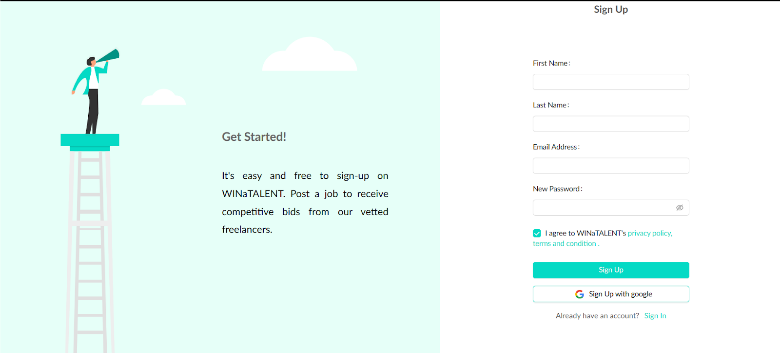 After signing up, which will only take 5 seconds, you can see your dashboard. In this section, you have the option to create a project with specific budget and requirements.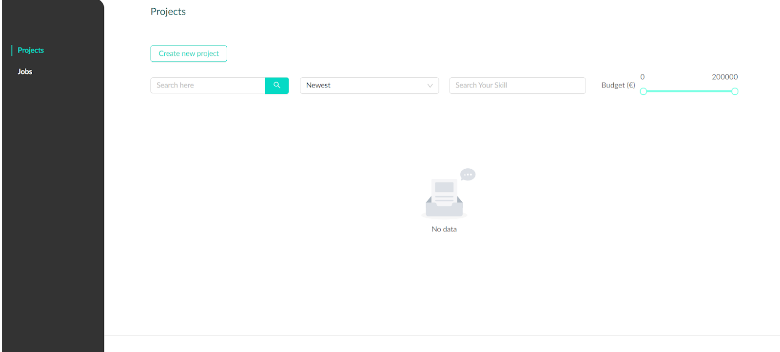 So press the Create new project bottom. Under the project section, there is a two-part form that you will need to fill:
The general information of your project with title and contact information: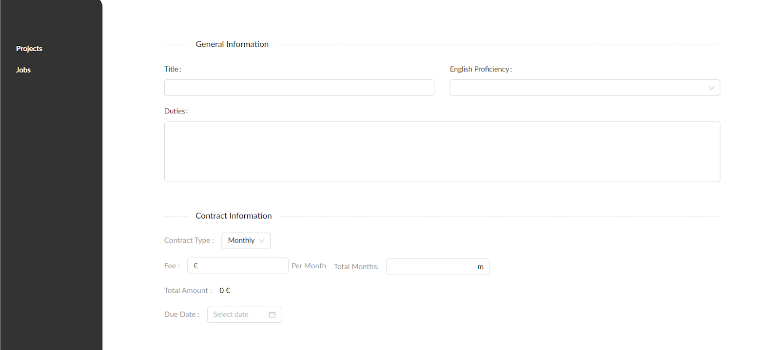 2. The skills and skill-set you are going to need for your project. And information about who you are as a company or individual. These sections need to be as detailed as possible.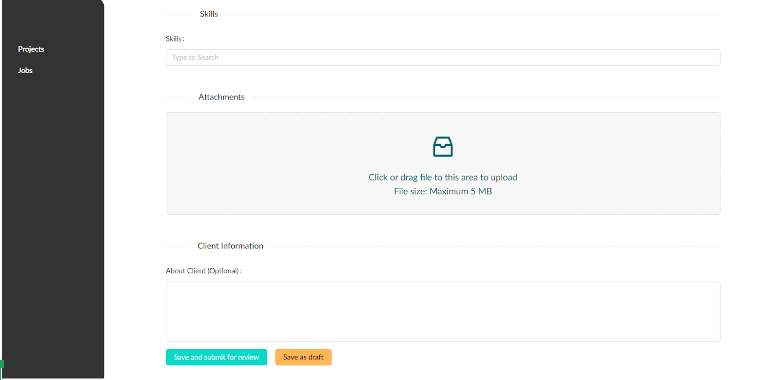 After you've finished defining your project, our team will review your proposal, and your project will be available for freelancers to bid. You can choose the best freelancers based on your job requirement, their bids, and their resume.
As a start-up ourselves, we know how much a great freelancer can lower your stress load and overheads, so we hope to help you have a great experience by signing up to WINaTALENT.