As startups and businesses grow, their need for agile and reliable talent also increases. It can be a real challenge to find the right people to expand your team, putting aside the budgets of adding them to your operations. Working with freelancers keeps the overhead costs to a minimum and creates the opportunity for organizations to work with many talented individuals on specific projects. overall the benefits of online freelance platforms worth getting used to. Thanks to telecommuting and digital nomad, it has become possible to have access to many talented individuals from across the world. But how can you find freelancers with the exact skill set you need?
For freelancers, finding clients can be as challenging. Some build websites and set up their social media profiles and start promoting themselves. But the global talent pool is rich and diverse, can someone stand out from the rest just by being good at what they do? Will clients reach out? There are many flaws in this approach, as there is a chance that it may not work at all. So how can freelancers and businesses connect and collaborate? What is the best solution?
By using online freelance platforms, like Upwork, Freelancer, Win A Talent and Fiverr, freelancers and businesses located in different parts of the world can connect and work with one another. Some of these platforms are more industry-specific, like 99designs, which is for designers and illustrators.
But what exactly are freelance platforms? How do they work?
Freelance platforms are like an online talent marketplace; they serve as a medium and combine all the required resources to manage temporary jobs.
There are two main kinds of freelance platforms: bidding and non-bidding services.
In bidding platforms, freelancers make a profile on the websites and highlight their skill set, achievements, and education. They can even upload an online portfolio in order to attract more clients by showcasing their expertise and style. Then, clients submit their orders on the site and registered freelancers start bidding for it. Clients choose the best candidate after reviewing their profile and price. Finally, freelancers are rated based on their performance by clients; positive reviews and feedbacks also help attract more clients later on.
In non-bidding platforms, freelancers go through a vetting process after their registration. Clients submit their requests in detail and the platforms provide them with a shortlist of applicants and conduct interviews to help them choose the best fit for their projects.
What are the benefits of using freelance platforms?
Freelance platforms are, above all, easy to use and convenient. Once you sign up and complete your profile, the hardest part is already taken care of! They speed up and ease the process of finding a freelancer or a client, forming a contract with them, and payment.
Freelance platforms have strict rules and vigorous registration processes which protect both freelancers and clients from scammers. Therefore, these platforms almost always guarantee their users' security and their timely and accurate project release and payment.
Using an online freelance platform expands the choices for both freelancers and companies, they both can easily find exactly what they are looking for. Freelancers can find the kind of work that truly defines and challenges them, and companies can find the best candidates and have a favorable outcome.
Some online platforms even offer other valuable features, such as a work diary and a desktop app to enable businesses to track work time and results. For example, Upwork has a desktop app that takes six snapshots from your screen every hour and records the total number of mouse clicks, scroll actions, and keystrokes per segment. Another feature some platforms provide their users with is a chat tool that enables freelancers to contact their clients for clarification and approval anytime they require.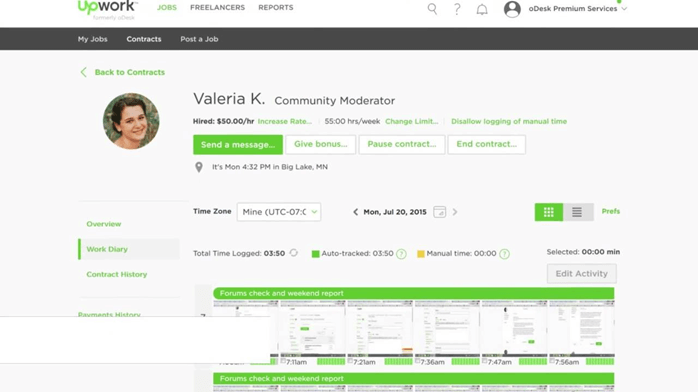 Perhaps the most notable feature about online freelance platforms is how they ease the payroll process. Freelancers sometimes only rely on the promise of getting paid and there are delays in many cases. Freelance platforms provide a secure payment system that prevents delayed payment.
Freelancing is predicted to take as much as 43% of the U.S. workforce by 2020, so it is clearly here to stay! The world is adjusting to a new norm, and the staggering number of people who prefer temporary work to regular 9 to 5 jobs is sure to transform and develop different values in the freelancing community. While freelance platforms are already a great asset to both freelancers and companies, the future is even brighter as things gradually change. Therefore it's essential to care about benefits of online freelance platforms.