Freelancing and telecommuting have been growing significantly over the last decade.
According to the data collected by Flexjobs and Global Workplace Analytics, the number of telecommuting employees has grown by 115% in the U.S. since 2005.
Consequently, online freelance platforms have become more popular.
They are considered the most convenient place for freelancers and clients to connect.
These platforms fall into two main categories: bidding and non-binding platforms.
A few years ago, the only available option for freelancers to find jobs online was through bidding platforms. But with the development of the gig economy, new alternatives have appeared – non-bidding platforms.
Even though the steps for registration and working in these two kinds of platforms are similar, there are still some major differences between how each step takes place in each of them.
Bidding platforms vs. non-bidding platforms
On bidding platforms, like Upwork, WINaTALENT, and Freelancer, freelancers and companies start by signing up and filling out their information.
Then, freelancers pass a proficiency test and companies pass a verification process.
Finally, companies can start submitting their orders and freelancers can start bidding for them.
Getting an account on non-bidding platforms, like Toptal, is a bit more complicated.
After freelancers sign up, they pass a language test, verify their professional and communicative skills, and in some cases, have a live interview with the platform's team.
Some platforms, like Lemon.io, even contact freelancers' previous employees to ensure the freelancers are reliable and trustworthy.
Searching for contractors and freelancers
On bidding platforms, after the clients place an order, freelancers start bidding for it and name their prices.
The prices may vary sharply, and many of the freelancers may lack the necessary skills or be complete beginners.
Find out more about global outsourcing rates to avoid hiring freelancers whose prices are too high or too low.
It is up to the clients to find and select the best candidate after considering their bid and reviewing their profile.
On non-bidding platforms, the websites' permanent support teams search for potential candidates manually and match their skills and expertise with the clients' requirements.
Selecting contractors and freelancers
On bidding platforms, freelancers search for the projects themselves and name their prices on their own.
Clients also have to search for the best candidate after going through all the bids. The pole of candidates can be a hundred freelancers and going through all of it can be quite time-consuming, as the clients have to make sure the chosen candidate is skilled and reliable.
On non-bidding platforms, after the platforms' staff have found the best candidate and confirmed that they are available for the job, they assign them to the project.
If a client is not satisfied with the chosen freelancer, the platform will provide them with a substitute.
Some platforms provide the clients with a shortlist from their vetted specialists after matching their skills to the project requirements. The clients can then conduct interviews and choose the best freelancer themselves.
On bidding platforms, future communications happen directly between the clients and freelancers, possibly via the platforms.
The matter is similar on non-bidding platforms, but these platforms sometimes serve as an arbiter and solve any problems that may come up during the projects.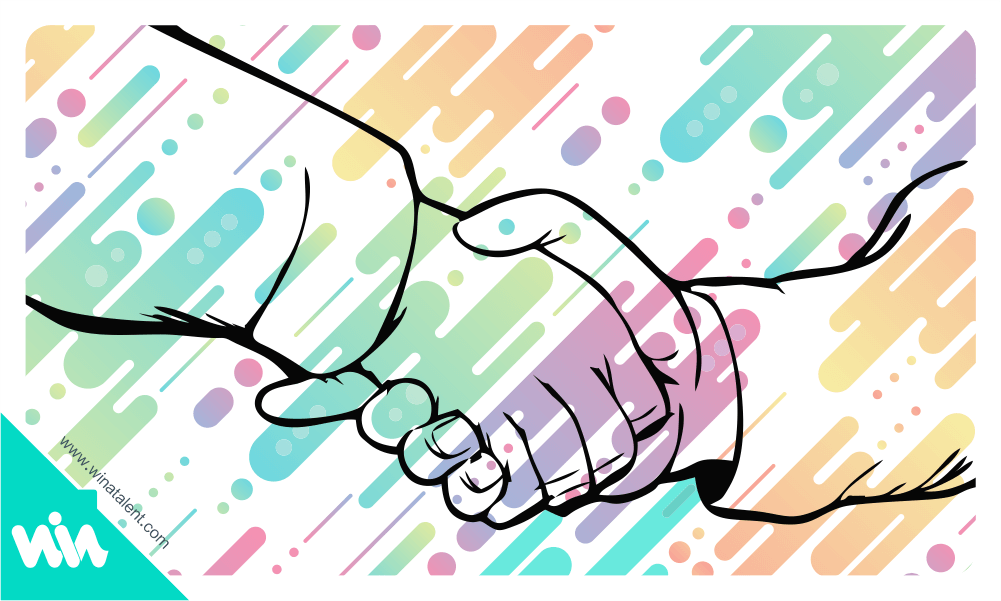 But which one is better?
The process of registration on bidding platforms sometimes does not thoroughly filter the talented and reliable freelancers, that is why clients cannot really know if the freelancers are good at their job or safe to work with.
On non-bidding platforms, freelancers are evaluated on a number of factors, including their communication and professional skills. They go through a vetting process, so the clients can be sure that the freelancers are reliable.
On bidding platforms, freelancers have to go through a time-consuming and stressful process to place their bids and sometimes go as low as they possibly can to win a project.
Clients also need to spend a lot of time to go over all of the bids and review the freelancers' profiles to find the best match for their project. Still, even though this might be difficult, clients have the freedom to choose the best fit themselves.
Non-bidding platforms can be more convenient. They search for the best candidates and match them with the projects' requirements, so the process is quick and hassle-free.
But there are still risks involved. The procedures are extremely arduous and time-consuming, and since clients don't take part in this process, finding the best match can be a challenge.
Bidding platforms focus more on the pricing, that is why the prices in these sites can be "absurd" sometimes!
When freelancers place their bids to win projects, the competition is between those with the lowest prices.
The opportunities might be lost for those talented freelancers who refuse to sell themselves short and lower their bids to work below the average price.
It's up to clients to prioritize between pricing and professionalism and choose the freelancer who suits their needs.
Non-bidding platforms are more skill-oriented, so they often have a specialization.
For example, 99desings is specifically for graphic and web design.
On one hand, specialization increases the general skill requirements for registering on these platforms, as the competition is between the most talented individuals.
On the other hand, talented freelancers don't have to bid for orders to compete with poorly qualified freelancers and can get a payment that matches their skills.
But all this makes non-bidding platforms a lot more costly and less diverse.
Bidding platforms have been around for much longer and there are still many advantages in using them. Clients can find freelancers for cheaper prices and freelancers can kick-start their career and gain more experience by doing different projects.
Non-bidding platforms have their own advantages, especially in the long run. They are reliable as they focus on professionalism and value their freelancers' skills and respect their work.
Either way, on online freelance platforms, freelancers can be sure that they will be paid appropriately for their work. And clients can be sure that they will be provided with a specialist whose skills were tested and approved.
Below is a chart that summarizes the points we've mentioned in this post about bidding platforms and non-bidding platforms: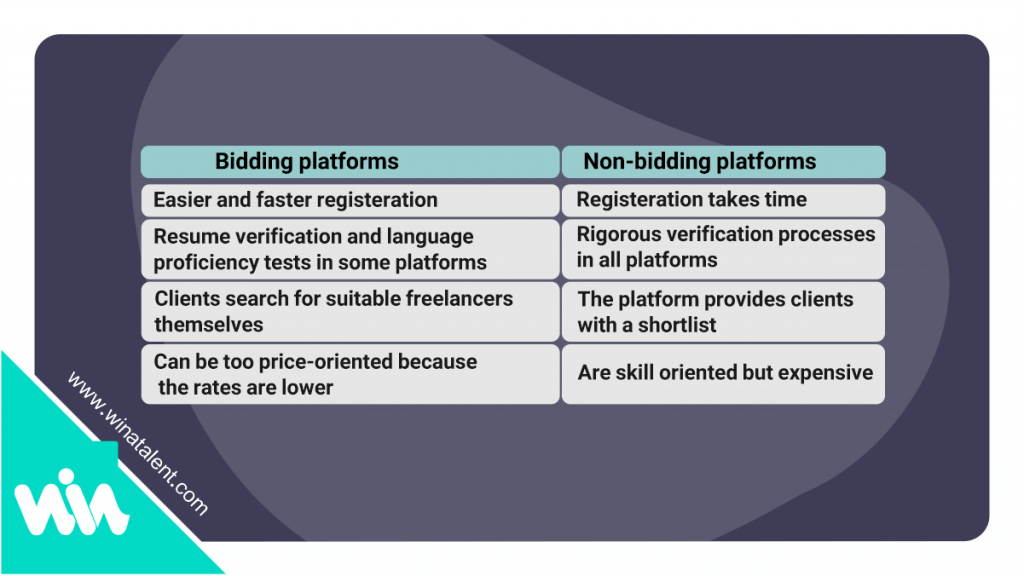 And that's what we're trying to achieve on WINaTALENT. We want to support both our freelancers and clients with our services so they can connect and work with each other without the pressure of payments or low-quality work.