Filling your resume and showcasing your skills in detail are the first and most important steps you take after signing up on WINaTALENT as a freelancer.
A good profile:
Reflects and represents your expertise in the best way
Passes our assessment procedures more easily
Attracts more and better clients
But what does a good profile look like on WINaTALENT?
Start your profile by completing your personal information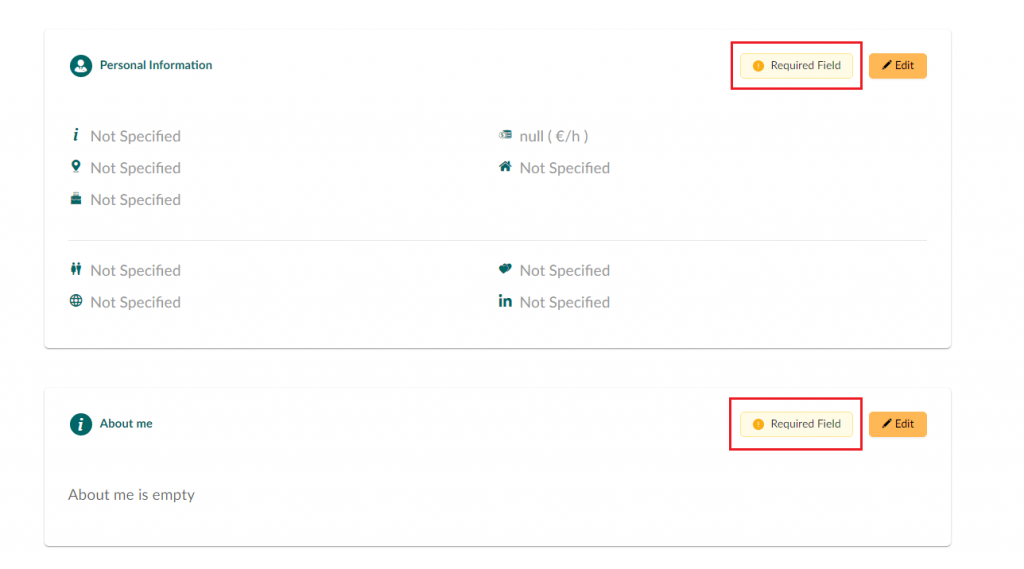 This section has the following mandatory fields:
Job title
This part is extremely important because it's the first thing the client sees when viewing your profile.
It's basically describing your expertise and experience in a few words.
For example, senior full-stack developer.
Country
Birthday
Gender
Hourly rate
This part indicates how much you're going to charge your clients per hour.
Make sure to carefully consider your skills and the average international rates when you fill this field.
Note that clients can only see your bids when you bid on projects and send your proposals, not your hourly rates.
You can read about average global outsourcing hourly rates to get a better sense of the rates you can offer.
Address
Even though WINaTALENT's profiles consist of both required and optional fields, note that a more complete profile increases your chance of attracting clients. So try to complete your profile as much as possible.
The next section is the "about me" section
In this section, the clients will look for:
Various hard and soft skills, such as your area of expertise and collaboration skills and
An overview of your work experience and its results
Personalized content that shows your trustworthiness
It's like making a good first impression.
You need to give all the necessary information clients need in a manner that doesn't put them off.
Remember that clients have to go through several profiles to choose the best one, so make this section:
Clear, concise, correct, and complete
Easy to read
Have clear sections
Written in the correct format
For example:

Clients only view the information available on your WINaTALENT profile, they don't check your LinkedIn profile or your attached resume.
Don't just rely on providing a link to your LinkedIn profile, make your "about me" section stand out by thoroughly describing your work and highlighting your values. Avoid lengthy explanations and turning it into your biography.
The next step is completing the information concerning your education

Add the schools you'd attended, your areas of study, and the degrees you've earned.
In the next section, provide information about your previous successful projects and jobs and add any related work experience and certificates you have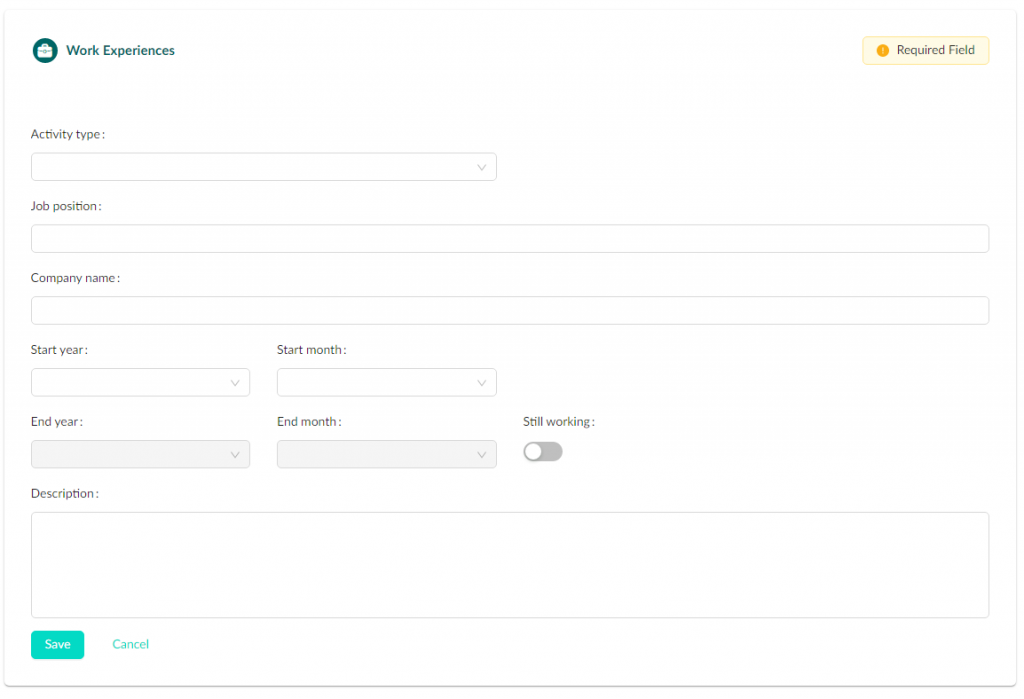 This step is crucial because it familiarizes the clients with your work and its quality. This will build prior trust and commitment between you and your prospect if it thoroughly showcases your skills and expertise.
TRY NOT TO SKIP THIS STEP.
Here's an example of an already written and verified Work Experience:

You can provide us with your previous client's information in the "Work Experiences" section and we will contact them, verify your work, and include it in your profile as a rate and review.
We at WINaTALENT care about experience on our platform, so we highly value freelancers with at least a year of experience.
Designate the languages you speak and your proficiency level

Search and add your skills in detail and the programming languages you know in the "skills" section

Add any attachments and certificates that validate the information you have previously given

After completing your resume, submit your resume for assessment by clicking on the "request for review" button at the top of the page.

Make sure to double or even triple check your resume before submitting it to fix any possible errors and mistakes.
After submitting your resume, you will undergo an assessment procedure.
WINaTALENT's assessment procedures have two steps:
_ CV assessment
_ Language assessment
Language assessment is performed after the first step's completion.
If your resume has been rejected because it was incomplete, you can immediately edit and resend it for review.
Don't have an account yet? Sign up now for free!