Recruiting Around the Globe
In our last post, alongside the freelancing statistics 2022, we talked about the highest demands in freelancing. We started with a brief work history and then introduced the most in-demand freelance skills in 2022, divided by professions. 
And so, we moved on to statistics and shared information about the global freelance platforms market segments.
Now, in this article, we're going to expand the statistics and share more information on market segments!
Further on Statistics:
More people are showing less interest in traditional 9-5 jobs every day around the globe, with the dream of becoming self-employed and choosing what they want to do.
The growing popularity of freelancing has been abled due to technological development, resulting in the worldwide connection of clients and freelancers. The process has allowed more people to do what they want on their own time without set hours. Also, more businesses reach their demanded resources with less difficulty.
These are vital freelancing statistics that every successful business needs to know:
There are over 1 billion freelancers worldwide, meaning approximately 31.4% of the workforce are freelancers.
12% of startups and new business founders have declared they haven't found the proper employees.
An estimated 30 million freelancers are in the game for the long run.
94% of freelancers are freelancing full-time.
Over 60% of freelancers specialize in more than one area.
By estimation, the freelancing industry contributes between $23.16 to $42.9 trillion to the world economy annually.
Professionals estimate that by 2027, the prevalence of the workforce in the US will be freelancers.
64% of freelancers polled say no amount of money will take them back to the traditional job structure.
More than 48% of the Fortune 500 companies use freelance platforms to hire freelancers.
What Are These Numbers Indicate?
With these growing numbers and data, and based on the results of multiple surveys on the subject, businesses should eagerly consider recruiting freelancers. They could use this vast number of skillful talents and save their budget simultaneously.
Also, since the adoption of remote teams is growing, freelancing provides a viable career path for skilled professionals in regions with low domestic opportunities. CNBC reveals that Pakistan, Ukraine, and the Philippines rank in the Top 10 countries with the fastest-growing earnings for freelancers!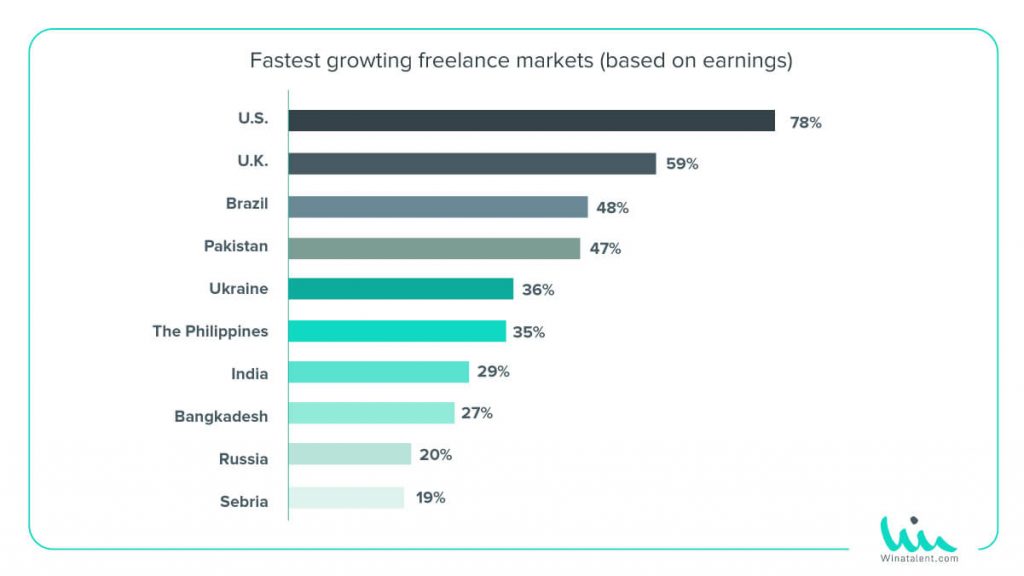 Now a question can come to mind:
Why and How Is This Information Valuable for Clients?
Any business, company, or startup in the recruiting phase searches for skillful employees. The chances of hiring talented professionals in the traditional hiring system are much lower than in recruiting freelancers! Nowadays, freelance platforms have a considerable portion of the recruitment market on their hands. Collaborating with these platforms peaks your chances of hiring the right employees for your company, even with a faster process!
Another reason for applying to freelance platforms is that most of them work internationally.
For example, imagine the possibility of choosing developers worldwide rather than the few who have applied for your job offer! In case you are curious, we have covered the cost of freelance developers based on programming language and other factors.
What Is Going On in the MENA Region?
Freelancing has touched the MENA region as well. For example, Bahrain has one of the most liberal economies in the region. It is also on the front line of changing the work culture of the area. Some countries in the Middle East and North Africa involve women in the work industry more than ever. Women are framing half of the workforce in Bahrain.
Bahrain has over 42% of women in the labor force, 24.6% in Kuwait, 21.3% in Egypt, 16% in Iraq, 15.2% in Iran, and 15% in Jordan!
Israel has a prosperous freelancing industry, with over 300,000 self-employed Israelis and over 60% of women in the workforce. Also, two Israeli entrepreneurs initially started Fiverr there!
Companies are likewise getting more comfortable with remote work. In Jordan, more than half of the responders of the MENA 2021 poll said they predict that remote work will either boost or remain the same after the pandemic.
In the next 4-6 years, we will see a significant rise in freelancers; many will be women who can avoid lengthy commutes and rigid schedules!
Based on our database in WINaTALENT, 19.5% of our talent pool are women, and the ratio is increasing.
With the USA at the Top of the Freelancing Industry, Why Should We Care About the Middle East and Other Regions?
While North America and Europe are ringleader markets for global freelance work, international talent supply and demand are changing the game. Freelancers are found on every continent. Innovation in tech products and services and, at the same time, a growing freelance support ecosystem have resulted in the industry contributing more than a trillion dollars to global GDP.
Location, experience, and skills are essential factors in freelance developer rates. As the costs of hiring a freelancer are relatively higher in Western countries, companies benefit greatly from the diverse and affordable offshore talent markets.
The labor costs, in general, are higher in North America, Australia, and Europe compared to South America, Asia, and Africa.
You can check out Global Software Outsourcing Rates to compare the prices.
Last and Foremost …
In this competitive outsourcing world, each day has more worth than just letting it pass by.
WINaTALENT is a European-based freelancing company. Our talented freelancers are mainly from the Middle East, USA, Germany, and the UK.
Our rich talent pool is waiting for you, and our professional team is ready to start recruiting for your company. So why don't you dive in now?!