In today's business world, outsourcing has become widespread. Outsourcing is working with external vendors to process various business activities, from hiring through an employment agency to business processes management, and more. This practice allows companies of all sizes to do their business and grow without significant risk or investment when done correctly! It seems that software outsourcing will solve the problems!
Outsourcing has three standard divisions: offshore, nearshore, and onshore. The transition of these terms depends on the company's geographical position worldwide.
For example, suppose a company is in Eastern Europe. In that case, it's nearshore for Western Europe and offshore for the United States of America. Onshore outsourcing (also known as domestic outsourcing) receives services from providers outside a hiring company but within the same country. In brief, it's all about the distance from the hiring company!
This post is about updated software Outsourcing Rates and Critical Information for 2022, sorted by location and skills. Also, we will share critical data clients need to know to have a better experience hiring freelancers.
Why Do Companies Outsource?
Companies of all sizes invest in software development solutions to increase efficiency and productivity, launch new business units, and increase innovation, to stay competitive in today's marketplace!Also, demand for freelance development is increasing since software outsourcing is more popular than ever. Here you can see the pros of hiring freelancers, like needing less budget than in-house teams, as well as its cons.
When considering why a company may outsource its software development needs, several explanations come to mind. Some of the most common ones include:
Lowering and controlling costs.
Attaining access to the best capabilities, services, and higher expertise.
Freeing internal resources.
Improving efficiency for time-consuming tasks.
Concerning cost controlling, a significant item is the total cost of engagement. TCE is a list of expenses unrelated to software development hourly rates.
For instance, when a company hires its in-house developers, TCE includes their salary, taxes, retirement compensation, etc. This way, many of these costs vanish when a company decides to outsource. However, if you need to visit your partner overseas, include the charges for traveling and accommodation.
We have written extensively about other aspects of outsourcing and the comparison between insourcing, outsourcing, and freelancing that you can check out.
In conclusion, software development outsourcing delivers a wide range of advantages.
The usefulness of leading technologies and practices, the acceleration of time-to-market, and the proficiency that high-quality development teams bring are just a few. Nonetheless, one of the most attractive rewards is the ability to optimize the budget by paying less for considerably higher-quality software.
Outsourcing Models
Besides outsourcing types based on location, three main outsourcing models describe the relationships between the business and the IT service vendor.
Workforce Augmentation (Staff Augmentation):
A strategy for getting demanded personnel for short or long-term projects and detouring the expenses of hiring new full-time employees. The staff augmentation agent takes care of infrastructure and other costs of having full-time employees. The corporation is the one supervising, leading, and managing resources.
Project-Based Outsourcing:
A procedure that allows businesses to partner with IT service providers while upmarket in-house expertise is insufficient.
Project-based outsourcing operates best if the type of work outsourced forms the meaningful stand-alone part. In this matter, the business is responsible for high-level business management of the project.
Dedicated Development Center (DDC):
It's a model when a company locates its trustworthy resources in a different country to access additional talent resources, benefit from lower labor costs and taxes, and maintain complete authority over the work process.
The model has some risks:
1. Accomplishing recruitment in an unfamiliar location.
2. Discovering the ins and outs of local labor laws and taxes.
Is Price the Only Important Factor?
Another aspect with the same amount of importance, if not higher, is outsourcing quality. It's better to put it this way: a company, business, or startup should never consider IT outsourcing costs as the primary objective when outsourcing.
As many negative studies show, companies that declare "the lowest prices in the industry" as their main competitive advantage underperform and, afterward, deliver unsatisfying results!
Consequently, you will have to pay more than expected to redo the poor outcome. We are sure that you won't be happy to deal with that.
Furthermore, cultural similarities, language requirements, and time differences are all vital factors when you decide to work with someone from the other side of the planet!
Make sure to take a look at the helpful information we share with you on the charts below: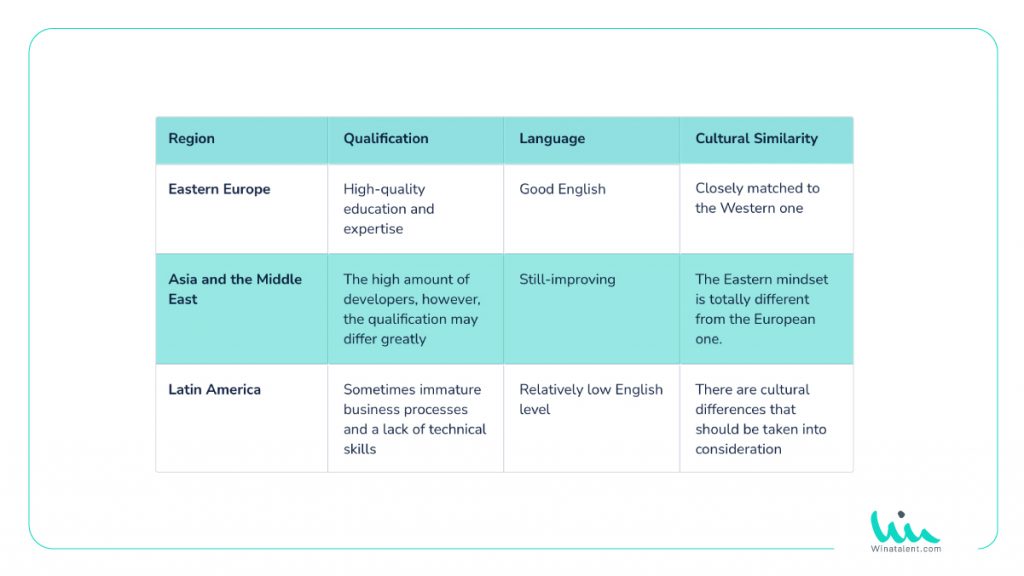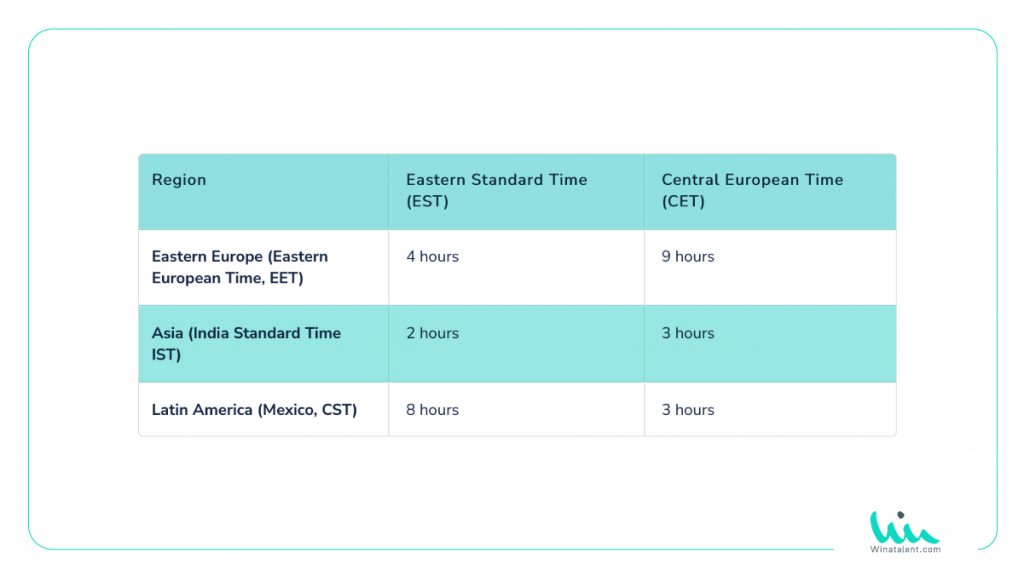 What Affects Outsourcing Rates?
The diversity of freelance developers is high. Location, experience, and skills are all factors in freelance developer rates!
Location:
The prices may drastically differ depending on the region.
Companies profit from the diverse and affordable offshore talent markets, as the costs of employing a developer are pretty high in Western Countries!
The average price in the US in 2022 is $100-150, which will serve as a benchmark for comparing software development hourly rates.
We have compared the 2022 software outsourcing rates in the most demanded regions in the table below:
Also, the Middle Eastern and North African countries are snowballing in software developing and freelancing industries. Many talented individuals and startups have introduced themselves to the world.
Since they're less known in the industry, their prices are still lower and more affordable compared to the more acknowledged regions!
We have picked Dubai as an example of one of the MENA region's cities with lots of potential in the freelancing and outsourcing industry!
The chart below shows the hourly rates of some of the most demanded jobs in Dubai in 2022: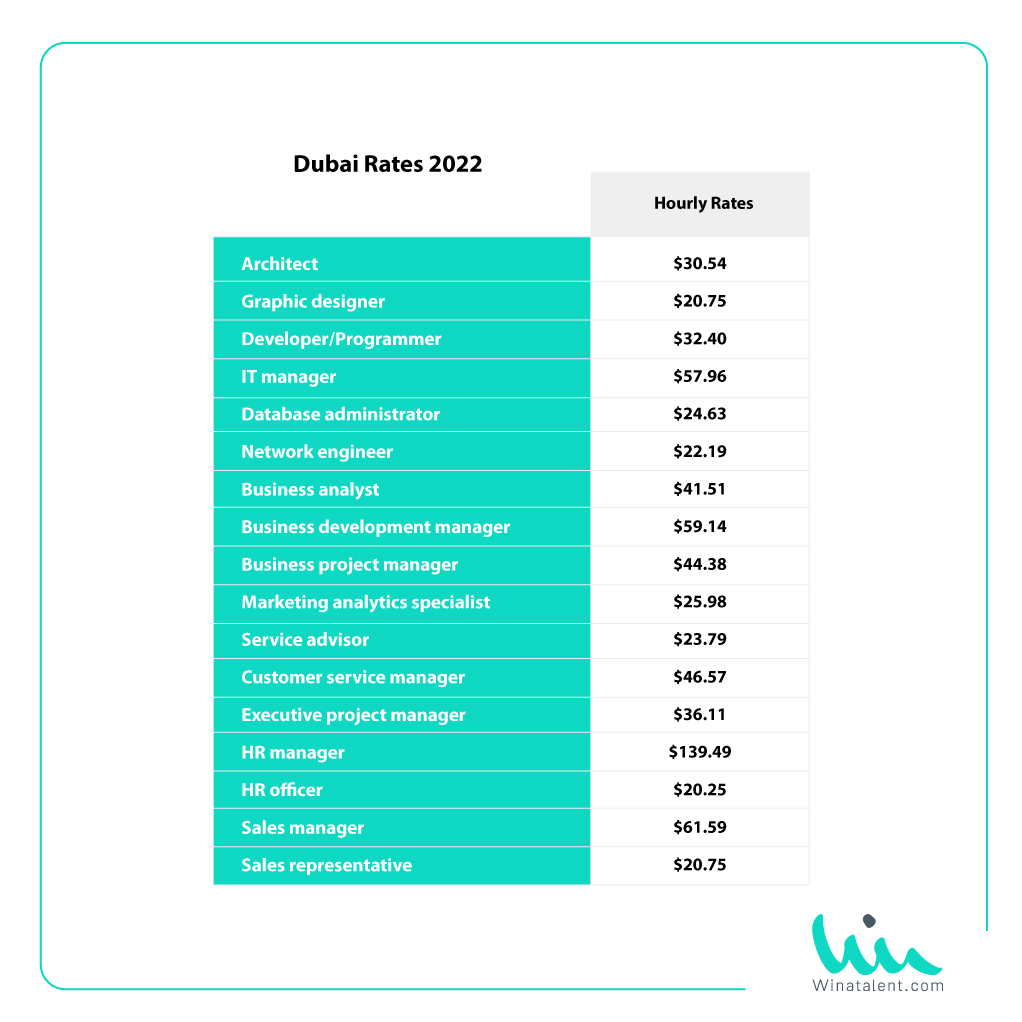 We also have covered Australia and Africa's rates in our post about Global Software Outsourcing Rates.
Experience:
Outsourcing experience and technical expertise are critical in estimating software development hourly rates. However, you can find offshore companies providing experienced senior developers for the same rate as junior engineers in your country!
Moreover, companies with outstanding records of successful projects through the years can offer better rates than companies without experience!
Skill:
Skill is another factor that affects the software outsourcing and freelancing rates!
There are lots of developing skills; keep scrolling to find out about software outsourcing and freelancing rates, divided by developing skills.
Developer Outsourcing Rates:
Programming Languages: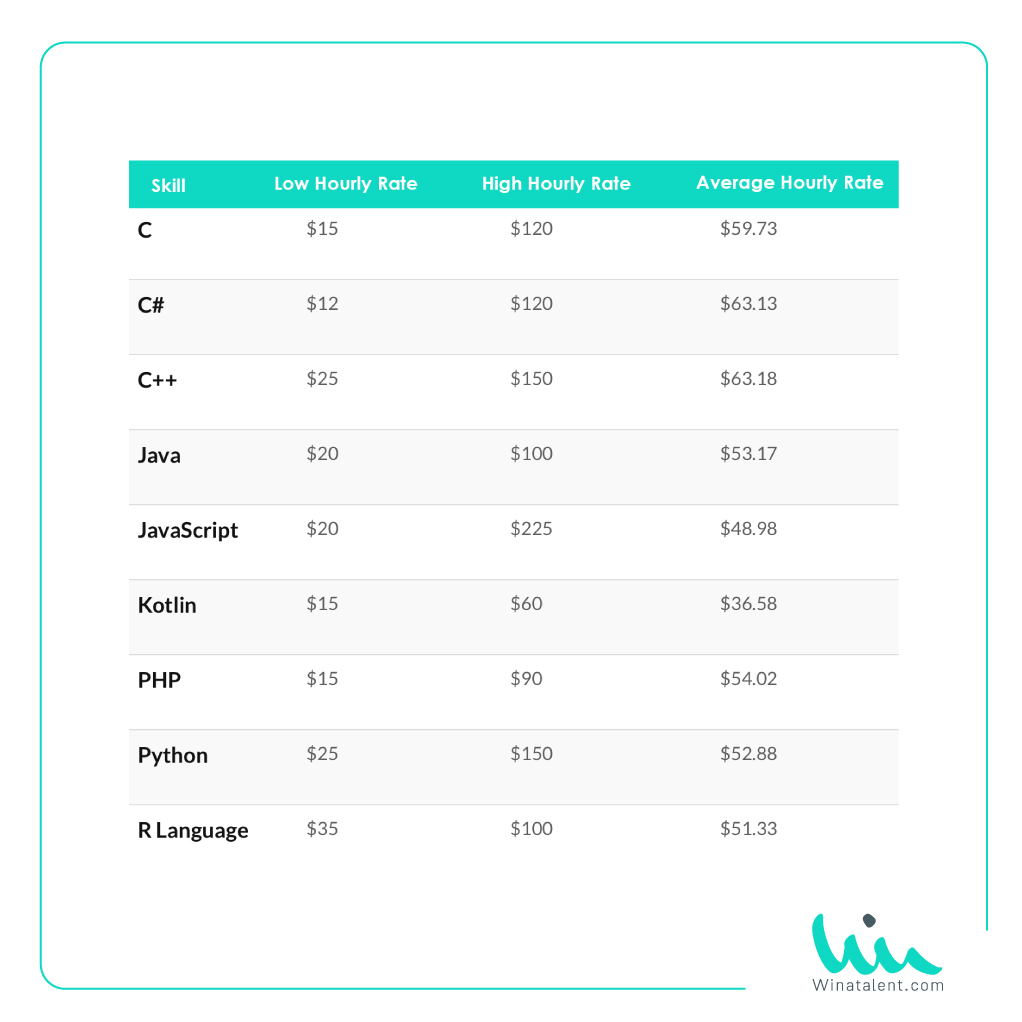 Frontend Frameworks: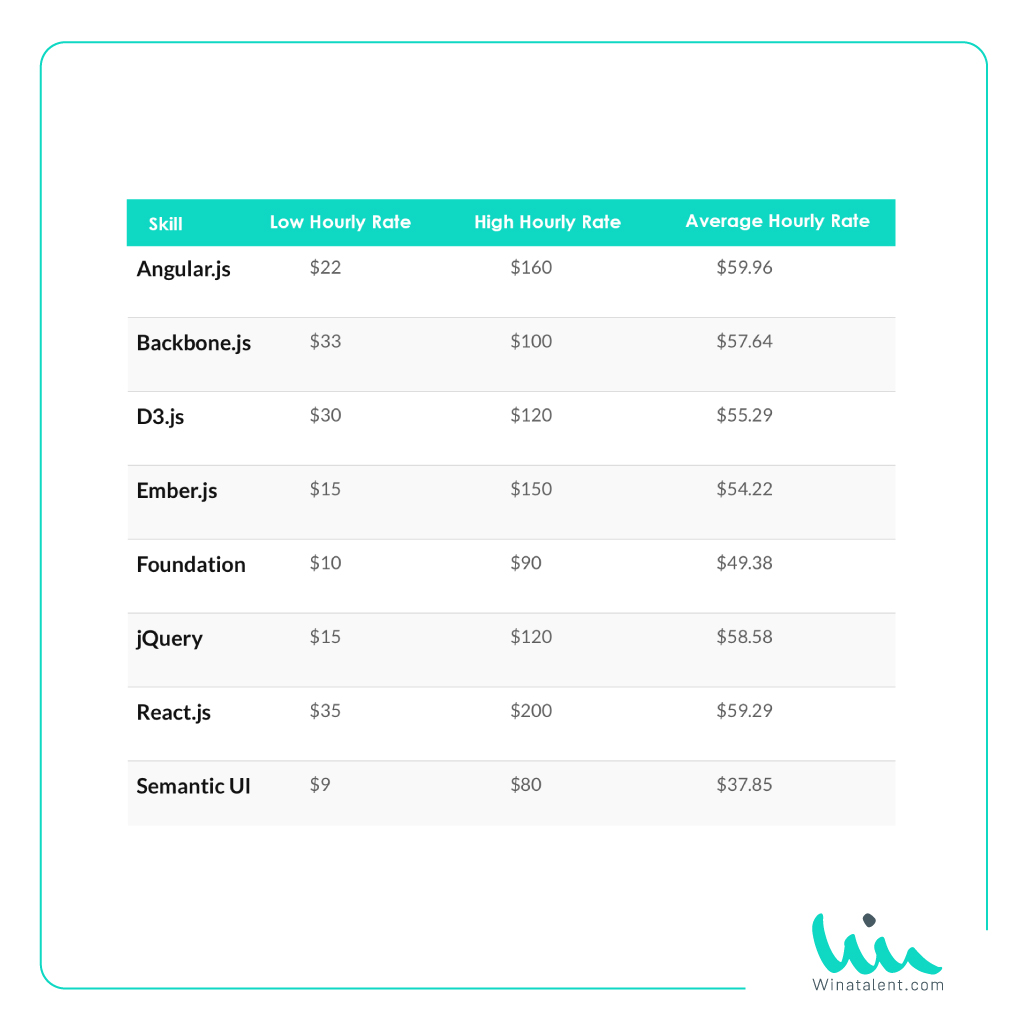 Backend Frameworks:
Content Management Systems: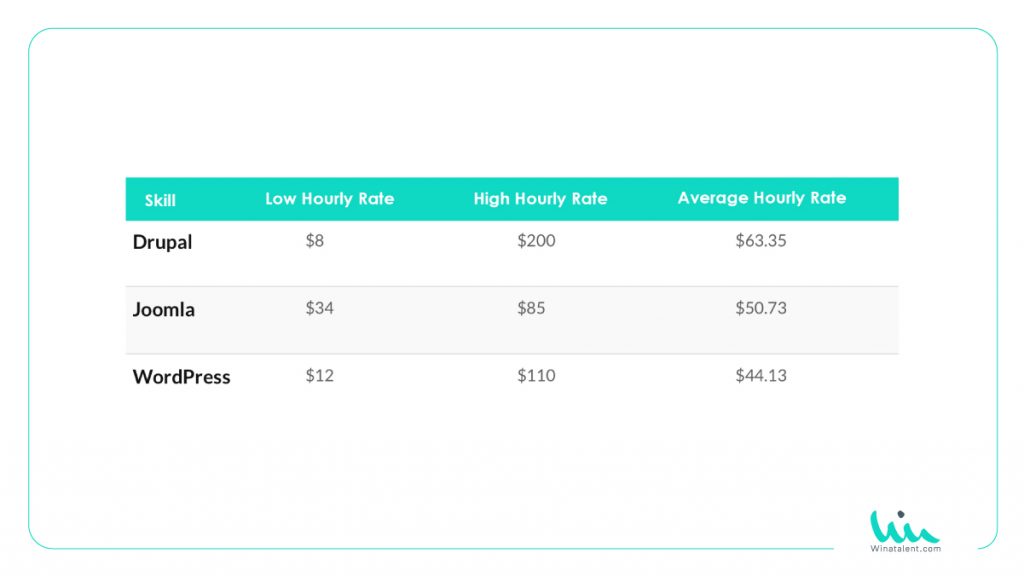 Ecommerce: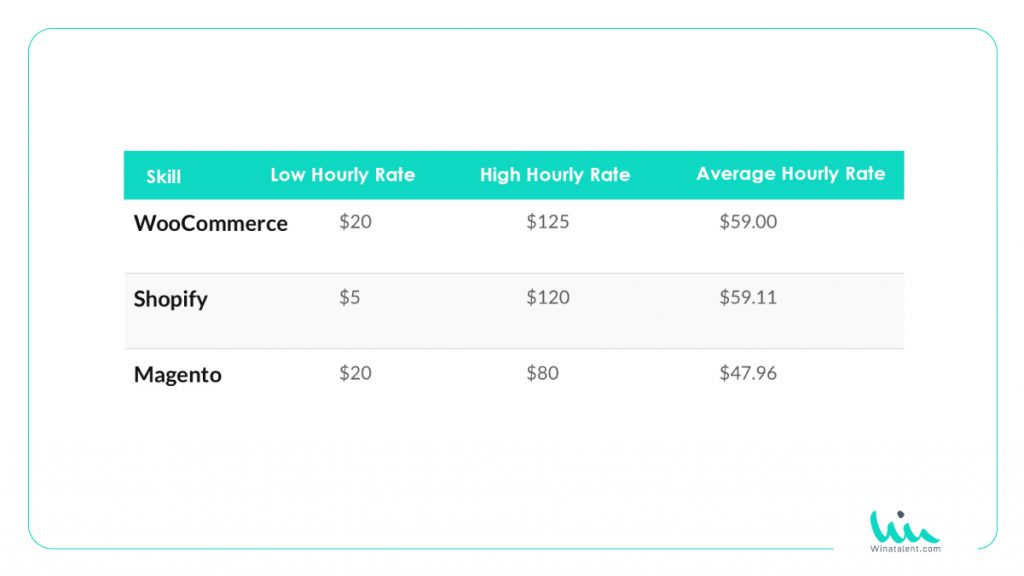 Miscellaneous: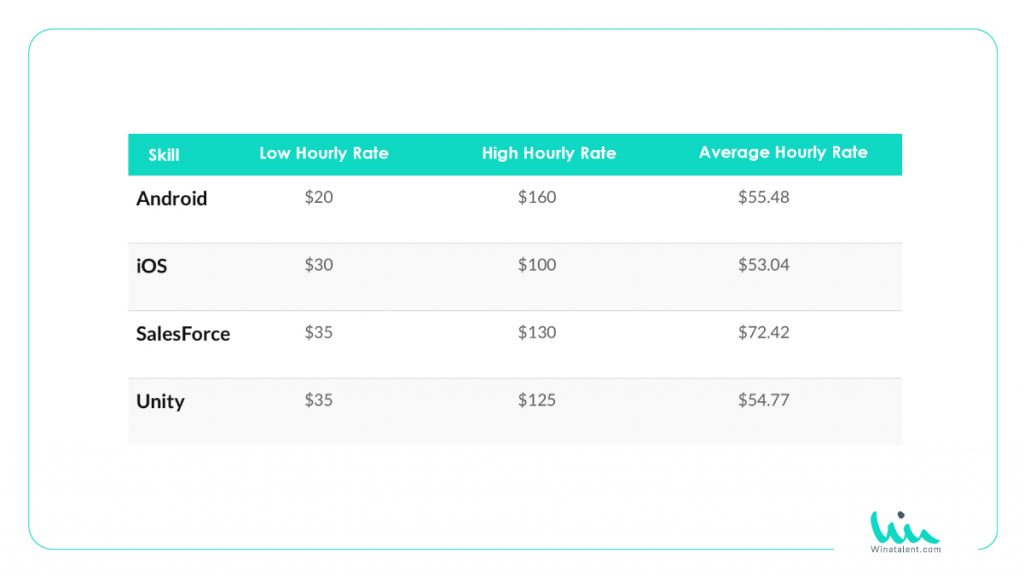 In the End…
Like in any business field, some companies or individuals offer better qualities, and some provide low-quality services.
Today the leading IT outsourcing trends are the following: the competition grows, and companies should provide quality services to succeed!
WINaTALENT offers numerous outsourcing and estimation services that help you develop your software product successfully!
We have a network of vetted freelancers who can accomplish your every software need.
Read our tips for a successful software outsourcing experience.
We also help you better understand your product's deliverables and completion process by tailoring an estimation document!
So take the leap of faith and trust our professional team to have the best recruiting experience of your life!