Let's face it; Covid-19 changed our lives.
Our definition of what is normal has changed. Right now, with several lockdowns all over the globe, many workspaces and offices are becoming empty spaces. Working without an office is now very common for many businesses.
But the questions about how to find developers and where to look for talent still remain.
At WINaTALENT, we just launched the perfect solution: Developer Renting Service.
So Why Developer Renting?
Maintaining and running an office space is not getting any cheaper, and the business you are running may not be as profitable as it was before Covid.
Also, with different restrictions and lockdowns worldwide, going to the office might not be possible for some employees.
It is also worth mentioning that with schools being closed, many employees who are working parents need to homeschool their children. Therefore, for them, working from home is a lot more convenient.
When you launch a start-up, you might not have enough income to pay for employees from where you live and build an in-house team for your project, but you still need full-time developers or designers or other positions for your team.
Therefore, you are wondering how you can find a developer based on your unique project requirements.
What Is WINaTALENT Developer Renting Service?
Developer renting is a full-time service we offer to our clients to cover their needs and requirements based on their budget.
You have the option to rent different developers to work on your app development project, software development, or start-up idea.
How to Use WINaTALENT Development Renting Service?
Use this landing to enter our development renting service page.
First you need to fill the following form to let us know about the details of your requirements.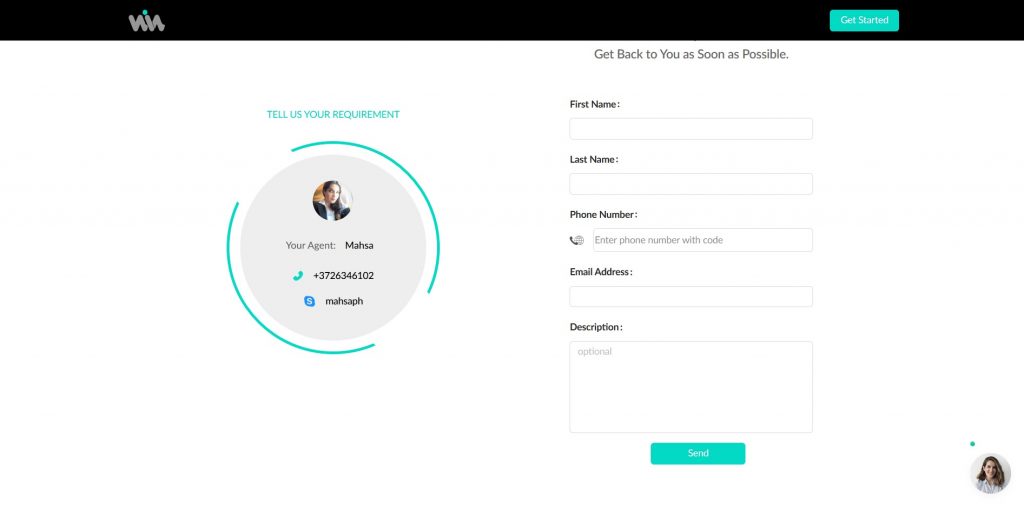 The contract you are signing with WINaTALENT is a monthly contract.
WINaTLENT will prepare a short-list based on your requirements. The short-list we provide consists of top candidates from our talent pool after we've had initial interviews with them.
You, as the client, will do the final interview and choose the talent you need from the list and report back to WINaTALENT.
Based on your interviews with the candidates, you choose and hire the talent you need; from this point on, WINaTALENT handles writing and signing the contracts and the hiring process.
In short, the chart below shows how development renting works: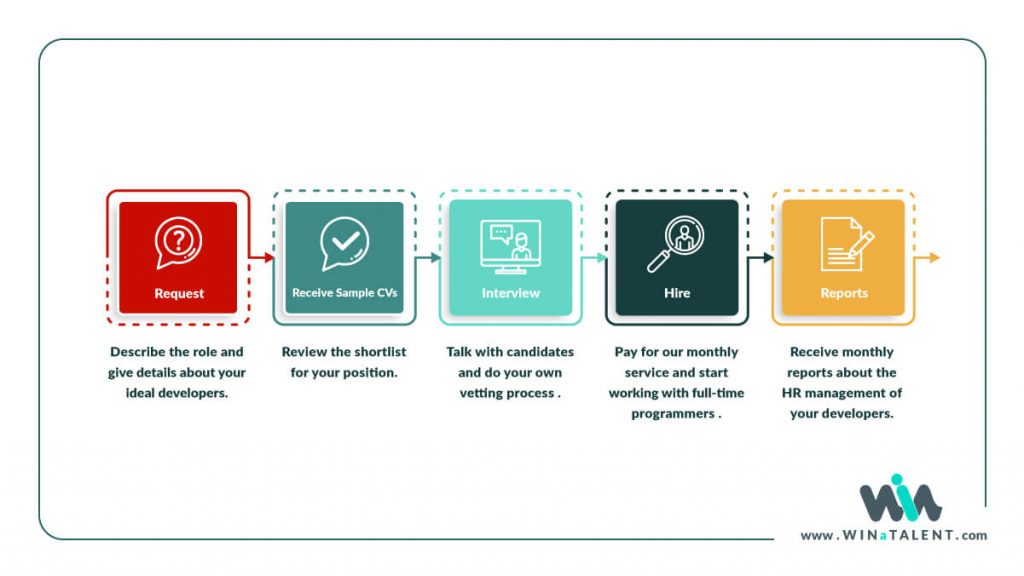 The development renting service allows you to review the short-list before paying for the service. Also, we provide a full monthly report about your developers' HR management to you.
WINaTALENT wants to help you reduce your stress level over talent acquisition, hiring process, and HR management with our developer renting service.
With this service, you access the talented individuals who are just right for your project.
If you think WINaTALENT's Developer Renting Service is right for you, let us learn about your unique requirements now.